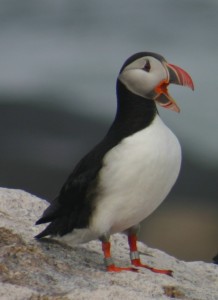 Before we start, let me answer a few questions that you have posted to the blog:
Where do Puffins sleep when they are at sea? The sleep while bobbing around on the surface. They don't sleep for long periods. They take small naps and sleep in spurts.
Puffins come back to the same place because it is built into them to do so. Just like you can find your way around your awn neighborhood. Many creatures do this besides puffins. Falcons and Salmon both find their way back. So do some kinds of pigeons.
Puffins can hold a lot of fish in their bills. We have seen up to 14 here, but it is possible that they can hold more. They are amazing swimmers and can dive 120 to 180 feet. Amazing!
Puffins would probably not make great pets. They would want to be either deep in a burrow our out at sea, so they would not be very happy on land or in a cage. Best we come visit them where they are.
Does the horn bother me? Not really. I'm used to it now, just as many of you are used to the train passing by.  It is fun to sleep in a lighthouse!
Today we spent the day visiting a razorbill colony on the north side of the island, and I got to hold a chick while we weighed and measured it. Want to see?  Click here for a video. Next, I went to a Puffin Burrow.  Here is a video. What a surprise!  Here is Anne Rohn holding a razorbill.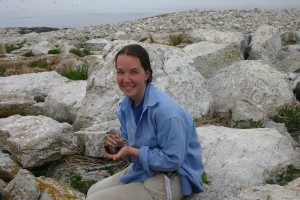 The rest of the day was spent re-sighting banded birds. Today I tried Common Terns. They are much more active than puffins. They move a lot, squawk a lot and were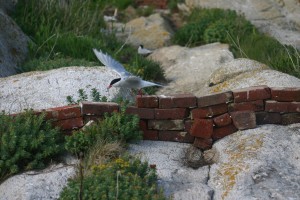 constantly moving around with fish in their beaks. Click the photos today to see!
As you can see we work with many species of birds besides puffins. Why do you think we need to work with so many different kinds of birds?