Today started at six o'clock in the morning with a quick weather check and then a few hours sitting at the top of a lighthouse counting birds. What a view. Want to see it? Click on the picture below to open a virtual reality view to take a look.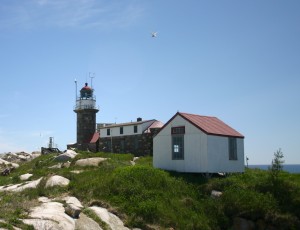 I spent the remainder of the morning trying to read the numbers on small tags mounted on the leg of moving puffins. Does that sound difficult? Well it IS difficult. But it is also important. What do we use tags? One reason is to answer a question that many of you put on the the blog. How long do puffins live. We can't very well walk up and ask them how old they are, so we use bands to keep track of individuals. The oldest puffin on record is 34 years old! Would you like to find out more? Click here for a video.  And look at this animation.  Sometimes they do the strangest things…
We also spent some time taking a look at some of the nests on the island. We need to keeptrack of how many active burrows there are so we know how they are doing this year. How do you find the nests? Matinicus Rock is a bird colony without any trees, so birds nest here on the ground. Some birds, like arctic terns, nest on the rocks or in the grass near the rocks. Here is a view of a tern sitting on her nest. The photos below are the eggs themselves.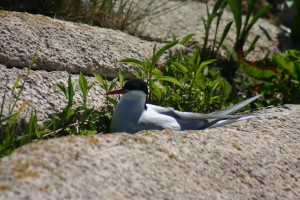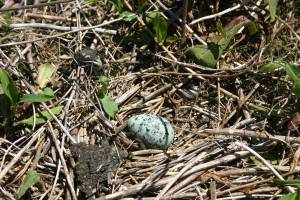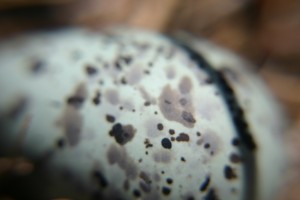 Puffins and Storm-Petrels burrow into the ground. Puffins use crevices in the rocks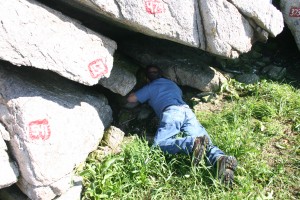 to make their nests. In order to check on the puffins and their eggs, sometimes you have to crawl a little. Here I am trying to see what is in a burrow. And here is what I saw
inside. Can you see the puffin sitting on her eggs?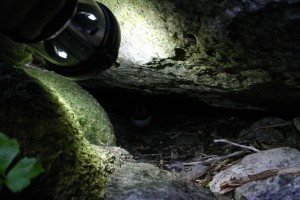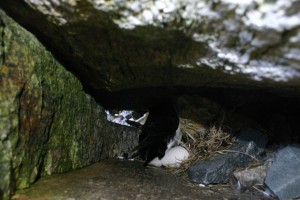 Thanks for your answers to yesterday's question. "The Rock" is .49 miles long and .2 miles wide. The closest mainland is about 17 miles away. Puffins and other sea-birds nest this far out for a few reasons. One is to avoid some land predictors, such as foxes, owl and mink, which are not out here this far. In additon, people now live along the coast, so the amount of area that the Puffins can occupy on the mainland is much smaller. Finally, they are much closer to the deep-water fish that they prefer to eat.
For the blog today, use the internet to find out how the following questions:
How deep can puffins swim?
How many fish can they hold in their beak?
How long can they hold their breath?
What do they eat?
Here are today's Photos: