Today I made it to the Project Puffin base in Bremen, Maine.  I'll spend the night here and tomorrow I the boat for the island leaves early in the morning.  I had to pass through the states of Connecticut, Massachusetts, New Hampshire and Maine.  After I arrived, we spent part of the afternoon packing food into huge rubber dry-bags.  The staff had just returned from a shopping trip and all the food now must be transported to the islands in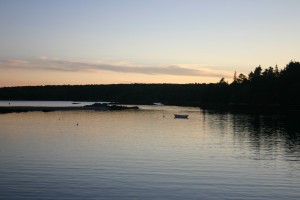 small boats, so the dry-bags are a must.  Tomorrow I go by ferry to and island near Mantinicus.  I meet a smaller private boat there that will take me the rest of the way out to the island.  I had dinner with some of the staff in a bird sanctuary on an island just across the bay from where I am staying.  Here is the view.
I asked the some of the scientists about puffins and climate change.  "Puffin" Pete Salmansohn told me that Puffins tend to nest high above the water, so they are a little more protected from rising seas than birds that ne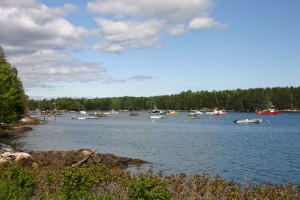 st very the water line, like piping plovers or least terns.  But strong storms together with high tides could effect puffin borrows.   The greatest threat to the puffin is the changing fish population as the water warms.  The habitat they live in remains in the same spot, but their food is moving north.  Atlantic Saury are showing up in greater numbers in the Gulf of Maine, but other fish are moving away.  Now puffins are eating these newly arrived fish.  Will puffins adapt to the other changes in the food supply?  No one knows.  You can find out more about puffins and climate change by clicking here.
Some of you asked how many puffins there are in the world.  Puffin Pete told me that there are twelve to fifteen million puffins in the world today.  They are not endangered at alldisney inflatables wholesale.